<< Back to Map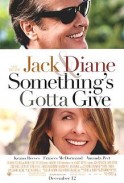 Something's Gotta Give (2003)
Something's Gotta Give, 123min, United States
Comedy
Nancy Meyers, Diane Keaton, Jack Nicholson, Amanda Peet, Keanu Reeves, Frances McDormand, Jon Favreau, KaDee Strickland, Paul Glaser
Harry Langer (Jack Nicholson) is an older gentleman in his sixties with a penchant for younger women. Marin (Amanda Peet), his current girlfriend, is another one significantly outside his age bracket. Despite this, she seems to like him and she invites him to come with her to her mother's beach house in the Hamptons. Upon their arrival, they discover that Marin's mother, Erica (Diane Keaton) is staying there too with her sister. Despite the full house, Harry and Marin decide to stay.
Matters are complicated when Harry suffers a heart attack. They rush him to the hospital where he receives strict doctor orders to stay nearby. Marin most return back to the city, so her mother reluctantly agrees to allow Harry to stay and to look after him.
Immediately revolted with each other and finding little in common, the two eventually begin to fall in love as Erica nurses Harry back to health. Has womanizer-Harry finally changed his ways and found someone his own age, or will he slip back into his old habits?
(Jessica2014)