<< Back to Map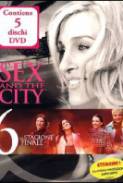 Sex And The City (1998)
Sex And The City, 30min, United States
Romance, Comedy
Michael Patrick King, Allen Coulter, Michael Engler, Michael Spiller, Alan Taylor, Sarah Jessica Parker, Kim Cattrall, Kristin Davis, Cynthia Nixon, David Eigenberg, Chris Noth, Kyle MacLachlan, John Corbett, Evan Handler, Ron Livingston
Carrie Bradshaw is a sassy newspaper columnist that focuses on sex and relationships in New York City.
She has three dedicated friends who help her with her on-again-off-again relationship with handsome hunk Mr. Big (Chris Noth). Miranda (Cynthia Nixon) is a cocky and brilliant lawyer that keeps Carrie out of trouble and gives her strong advice. Charlotte (Kristin Davis) is a diehard romantic that always hopes that love will prevail, especially in Carrie and Mr. Big's relationship.
Samantha (Kim Cattrall) is a sexually adventurous Public Relations executive who is open to life and all its amorous joys.
The adventures of the four women often give Carey plenty to write about in her column, including Charlotte's everlasting search for the perfect man; Miranda's advancement at her law firm, while still finding time for a social life; and Samantha forever getting caught somewhere new with someone new.
(renegypsy)