<< Back to Map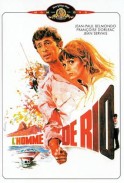 That Man from Rio (1964)
L'homme de Rio, 112min, France
Action, Adventure, Comedy
Philippe de Broca, Jean-Paul Belmondo, Françoise Dorléac, Jean Servais, Simone Renant, Roger Dumas, Daniel Ceccaldi, Adolfo Celi, Hal Linden, Nina Myral, Lucien Raimbourg
Air Force pilot, Adrien (Jean-Paul Belmondo), is looking forward to his upcoming leave so he can finally see his girlfriend, Agnes (Françoise Dorléac), in Paris. Unfortunately, dreams of his idyllic time-off are shattered when his girlfriend finds herself involved with South American thieves who kidnap her and take her to the airport where they board a plane. Before he died, Agnes' father was involved with Amazonian statues that the kidnappers believe will lead them to great treasure. Agnes is the only person who knows the location of the missing statues and they're willing to do whatever it takes to get the truth out of her.
Adrien makes it to the airport just as the kidnappers sweep in and abduct Agnes. Adrien immediately tells the pilot that his girlfriend has been kidnapped, but he won't believe him and instead suspects Adrien is the bad guy and plots to have him arrested when they land. To make matters worse, Agnes has been drugged and when she sees Adrien she doesn't know who he is. After a string of unfortunate events and plot twists, Adrien is surely down on his luck. Will he find a way to save his girlfriend or will the kidnappers get the treasure they so desire?
Filming locations
Movie That Man from Rio (L'homme de Rio) was filmed in Paris, Rio de Janeiro and Brazil city.
(Jessica2014)