<< Back to Map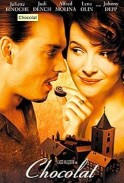 Chocolat (2000)
Chocolat, 121min, United Kingdom, United States
Romance, Fantasy
Lasse Hallström, Juliette Binoche, Alfred Molina, Carrie-Anne Moss, Judi Dench, Johnny Depp, Hugh O'Conor, Lena Olin, Peter Stormare, Victoire Thivisol, John Wood
An unwed mother, Vianne (Juliette Binoche), and her daughter move to a small French town to open a Chocolate shop. The mayor (and religious head of the town), Comte de Reynaud (Alfred Molina), dislikes the opening of the shop and preaches to boycott the small chocolaterie.
Soon Vianne makes friends with other outcasts in the town, including her landlady, Armande (Judi Dench), who is not allowed to see her grandson; a beaten wife, Josephine (Lena Olin), who steals as a form of freedom from her repressed marriage; and a gypsy, Roux (Johnny Depp), who comes to town once a year.
Vianne has a special ability of guessing patron's favorite chocolates and slowly invites them to try the delicious fare.
The seductive power of the Mayan chocolate recipes brings out the amorous passions of anyone who eats them. Soon Vianne is helping the townspeople find love and happiness, and a little for herself, all while defending her lifestyle and shop from the Comte.
(renegypsy)