<< Back to Map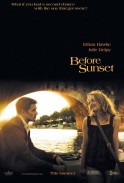 Before Sunset (2004)
Before Sunset, 80min, United States
Romance
Richard Linklater, Ethan Hawke, Julie Delpy, Albert Delpy, Vernon Dobtcheff, Diabolo, Mariane Plasteig, Denis Evrard
In the sequel to Before Sunrise, Celine (Julie Delpy) and Jesse (Ethan Hawke) are back. It's been nine years since the two met in Vienna and spent the day together and the two haven't spoken since. Jesse has just finished a novel—a mostly-autobiographical story depicting his love story with Celine. His latest stop on the book tour brings him to Paris where he reunites with Celine. Conversation between the two picks up as easily as before, although both have changed. Jesse is married and has a son; Celine has boyfriend who is rarely around and is devoted to her job as an environmental activist. We quickly learn that although both have found career-success, they're unhappy with their lives.
Jesse has time to kill before his flight heads back to the US, so the two decide to wander the streets of Paris together. We learn that they never met up a year after they'd met as they promised to. Life got in the way and although they both wanted to meet, it never happened. As the hours pass, they discuss their current relationships, what they mean to each other, and reminisce about how their experience together nine years ago has shaped them. It's clear they both have feelings for each other still and wonder what could've been, but do they have enough time before Jesse's flight home to ensure they don't go another nine years without speaking? Is their connection strong enough to risk uprooting their lives?
Filming locations:
Movie Before Sunset was filmed mainly in Paris, France.
(Jessica2014)