<< Back to Map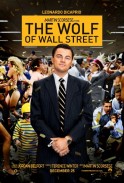 The Wolf of Wall Street (2013)
The Wolf of Wall Street, 180min, United States
Drama, Comedy
Martin Scorsese, Leonardo DiCaprio, Jonah Hill, Margot Robbie, Matthew McConaughey, Kyle Chandler, Jon Bernthal, Kenneth Choi, Jean Dujardin, Cristin Milioti, Rob Reiner
The film focuses on the high-life of Jordan Belfort (Leonardo DiCaprio); a stockbroker who starts his career at the same time of Black Monday.
After the Stock Market crash, it is nearly impossible for anyone to find a job as a stockbroker. Unfortunately, Belfort is not immune to the downfall, but needing work, he heads out to a small shop that sells bonds to the "Average Joe." The Penny Stock Market opens the way for Belfort to create wealth and start his own brokerage firm. His larger-than-life salesman style and vivid imagination afford him a lavish lifestyle that further pumps his bold personality.
Filming locations
Movie The Wolf of Wall Street was filmed in New York.
Check the article: New York's "The Wolf of Wall Street"
(Kocourvbotach)