<< Back to Map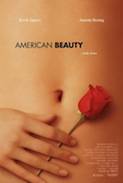 American Beauty (1999)
American Beauty, 122min, United States
Drama
Sam Mendes, Kevin Spacey, Annette Bening, Wes Bentley, Thora Birch, Mena Suvari, Peter Gallagher, Allison Janney, Chris Cooper, Scott Bakula, Sam Robards
Lester Burnham (Kevin Spacey) has the house and the white picket fence, but he is far from happy. He hates his job, finds his go-getter real estate wife (Annette Bening) to be obnoxious, doesn't understand his daughter, Jane (Thora Birch) and struggles through life as if he's living the grand American dream.
New neighbors move in next door--retired marines and their son, Ricky (Wes Bentley), who has a fascination with marijuana and recording everything around him with his video camera. Ricky's strict parents make life difficult for him, and he finds solace in Lester's daughter Jane--sharing his film projects with her.
Ridden with boredom and dissatisfaction, Lester becomes obsessed with his daughter's best friend, Angela (Mena Suvari), a cheerleader at the high school. Propelled by his lust and fantasies for Angela, and dissatisfied with his current life, Lester decides to radically turn his life around to alarming effects.
(Jessica2014)