<< Back to Map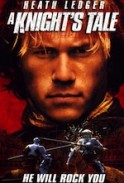 A Knight's Tale (2001)
A Knight's Tale, 132min, United States
Action, Adventure, Comedy, Romance
Brian Helgeland, Heath Ledger, Rufus Sewell, Shannyn Sossamon, Paul Bettany, Laura Fraser, Mark Addy, Olivia Williams, Alan Tudyk, Bérénice Bejo, James Purefoy
William Thatcher (Heath Ledger) is a poor squire, left as a child to work for a living.
He turns into an agile and adept young man who needs work after the death of his employer.
In his desperation for food and money, he dons the gear of his employer who was a knight, and soon takes on the identity of Sir Thatcher.
Now that William has turned himself into a knight, he can compete in royal competitions for money.
His loyal companions Wat and Roland (Alan Tudyk and Mark Addy) help him prepare for the competitions, but they need legal papers to prove his heritage.
To his good fortune he finds a gambling wordsmith, Geoffrey Chaucer (Paul Bettany) who is in severe debt and willing to create his lineage.
William is very skilled at the competitions and soon finds an adversary, Count Adehmar (Rufus Sewell) who is willing to ruin him—no matter the cost.
(renegypsy)