<< Back to Map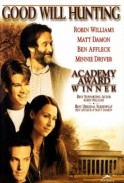 Good Will Hunting (1997)
Good Will Hunting, 126min, United States
Drama
Danny Elfman, Matt Damon, Robin Williams, Ben Affleck, James Allodi, Minnie Driver, Casey Affleck, Cole Hauser, Alison Folland, Vik Sahay, Jessica B. Morton
A young MIT janitor, Will Hunting (Matt Damon) stays in trouble because of his temper; however, he has an uncanny knack of solving math problems.
Every night after everyone leaves campus, Will completes math homework left on the board by professor Lambeau (Stellan Skarsgard).
Professor Lambeau is baffled by who has finished the problems and is determined to find the math genius.
Finally, Professor Lambeau learns of the janitor and goes to find him, but William is in jail. Professor Lambeau gets Will out on the condition he works with him academically and visits a therapist (Robin Williams).
In the midst of his new life, he meets a beautiful pre-med student, Skylar (Minnie Driver) with whom he falls in-love.
The two form a strong bond that is threatened by Will's advancement in the world of Academia, and Skylar's out-of-state transfer for medical school.
(renegypsy)