<< Back to Map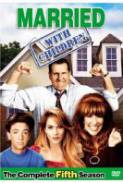 Married with Children (1987)
Married with Children, 30min, United States
Comedy, Family
Sam W. Orender, Gerry Cohen, Amanda Bearse, Brian Levant, Ed O'Neill, Katey Sagal, David Garrison, David Faustino, Amanda Bearse, Christina Applegate, Ted McGinley, Rosa Blasi, Joel Gretsch, Joey Lauren Adams
The Bundy's are a dysfunctional American family who are forever scheming to make more money, while struggling through everyday life. The patriarch of the family, Al (Ed O'Neill) is an unhappy shoes salesman who constantly avoids sexual advancements from his wife.
His wife Peggy (Katey Sagal) is lost in time with her big hair, cigarettes and heavy makeup—but in between her soap opera sessions and chain-smoking; she works on finding supper for the kids.
The two teenage kids are attending a local Chicago high school. Bud (David Faustino) has the brains of the family and is the younger of the two siblings. He is constantly trying to find a girlfriend, but is not as popular with the opposite sex as his older sister Kelly (Christina Applegate).
Kelly is well-loved by all the boys at school, hated by the girls, and has only a third of Bud's intelligence, but she loves her family. This small family may not function well, but they always stick together.
(renegypsy)