<< Back to Map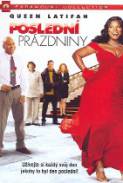 Last Holiday (2006)
Last Holiday, 112min, United States
Adventure, Comedy
Wayne Wang, Gérard Depardieu, Giancarlo Esposito, Timothy Hutton, Queen Latifah, James Todd Smith, Jan Unger, Lucie Vondráčková, Alicia Witt, Jaqueline Fleming, Kendall Mosby
Georgia Byrd (Queen Latifah) is a sweet department store employee with dreams of being a chef someday. It's the busy holiday season at the store, and mistakenly, Georgia hits her head while joking around with her co-worker Sean (LL Cool J) whom she has a crush on. As a result, Georgia is taken to the hospital for a CAT scan.
To her dismay, she is told by doctors that she has a rare brain disease and only a few weeks to live. Accepting the facts, she decides to quit her job and take her savings to travel in Europe.
Intent on staying positive, Georgia makes good use of the time she has left--spending money excessively and treating herself to all the things she's been deprived of her whole life. She befriends the hotel staff and guests where she is staying. Creating a new, outlandish identity, she lives her remaining weeks of life to the fullest.
Meanwhile, when Sean learns of Georgia's health and pending death, he rushes to find her before their chance at love is gone forever.
(Jessica2014)