<< Back to Map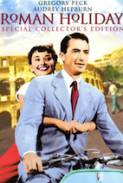 Roman Holiday (1953)
Roman Holiday, 118min, United States, Germany, Italy
Comedy
William Wyler, Gregory Peck, Audrey Hepburn, Eddie Albert, Hartley Power, Harcourt Williams, Margaret Rawlings, Paolo Carlini, Alfredo Rizzo, Paola Borboni, Laura Solari
Ann (Aubrey Hepburn) is royal princess with a busy, scheduled life. There are rules for princesses and procedure to follow and Ann is sick of it. Intent on exercising some freedom, she sneaks away from her keepers while visiting Rome and tours the city by herself.
Right away, she runs into Joe Bradley (Gregory Peck), a reporter from America. Faint, unsteady, and very sleepy from a sedative she was given earlier to calm her down, Ann needs Joe's help. He offers to help her and escorts her to his apartment where she can sleep. He doesn't yet know who she is.
Joe leaves her in his apartment when he has to head to work. Once there, he discovers that Ann is the princess after he sees a photo of her. Thrilled with his luck, he tells his boss he will get an exclusive story on the princess. In exchange, he'll receive $5000.
Joe returns home and convinces Ann to tour Rome with him, but as he spends more and more time with her looking for his big story, the two begin to fall in love. Emotionally involved and not wanting to hurt her, he struggles with how to proceed with his news story. At the same time, Ann struggles with giving up the freedom she discovers she enjoys so much.
(Jessica2014)