<< Back to Map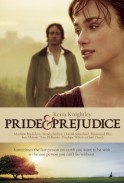 Pride & Prejudice (2005)
Pride & Prejudice, 127min, France, United Kingdom, United States
Romance, Drama
Joe Wright, Keira Knightley, Talulah Riley, Rosamund Pike, Jena Malone, Carey Mulligan, Donald Sutherland, Brenda Blethyn, Claudie Blakley, Sylvester Morand, Simon Woods
The five Bennet daughters are of marrying-age and their parents, Mr. and Mrs. Bennet (Donald Sutherland and Brenda Blethyn), are eager to find them each a suitable match. When a new man from a wealthy family - Charles Bingley (Simon Woods - comes to town, the Bennet's are eager to arrange a match between him and one of their daughters. Elizabeth (Keira Knightley) and Jane (Rosamund Pike)—the next-in-line-to-marry Bennett sisters—both meet Charles at a ball. While sparks fly between Jane and Charles who seem quite smitten with each other, Elizabeth feels much less adoration for Charles' best friend Darcy (Matthew MacFadyen).
Finding him cold and self-centered, Elizabeth does not care for Darcy and instead takes a liking to Lietenant Wickam (Rupert Friend). As Elizabeth battles her feelings for Wickam as well as fends off a proposal from a less desirable man, she can't help but come into contact with Darcy again and again. Outwardly, the two hate each other, but their constant sparring causes a deep and lasting love to start to brew.
Filming locations
Movie Pride & Prejudice were filmed in United Kingdom. The Bennet's Mansion Longbourn is located in Groombridge, Tunbridge Wells (East Sussex). Mr. Darcy's manson is Chatsworth House, Peak District National Park Authority, Bakewell, Derbyshire.
(Jessica2014)