<< Back to Map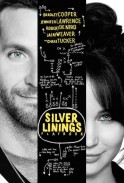 Silver Linings Playbook (2012)
Silver Linings Playbook, 122min, United States
Romance
David O. Russell, Jennifer Lawrence, Bradley Cooper, Robert De Niro, Jacki Weaver, Chris Tucker, Julia Stiles, Anupam Kher, Matthew James Gulbranson, Shea Whigham, Dash Mihok
Pat (Bradley Cooper) is sentenced to a mental institution after beating his wife's lover. He loses his job and is issued a restraining order to stay away from his wife.
While in the hospital, Pat is diagnosed with bipolar disorder. He is released into his parent's custody and decides to get healthy, get his job back, and work things out with his wife—without the use of medication.
At a dinner party, Pat meets Tiffany (Jennifer Lawrence) who is a young widow, also suffering from a mental disorder. The two begin a friendship based on hidden agendas.
Pat wants to get in contact with his wife, and Tiffany offers to write letters to her in exchange for his help in a dance competition.
Neither one knows what will happen once they both get what they want.
(renegypsy)